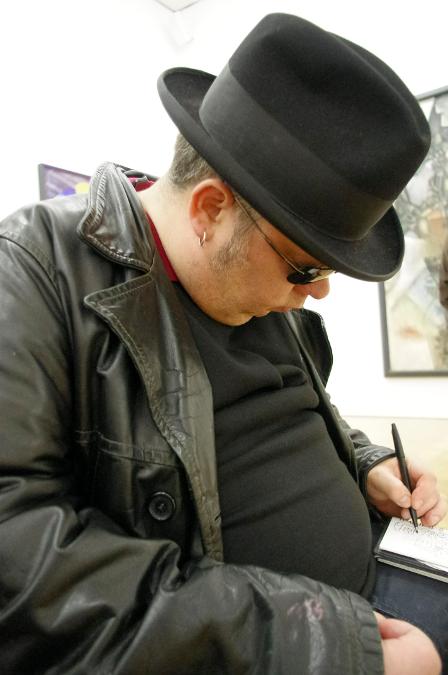 "At the age of 14 I had a brain haemorrhage which resulted in the loss of my drawing right hand. I never regained the use of my right side but relearned my natural artistic talent through my left hand. Since then I have been drawing, creating and painting my reflections on the world."
Billy Weston Speaking in 2009
B

orn in 1963 (Camberwell,London) Billy Weston has been developing his unique style of art since his chil

dhood.
A brain haemorrhage as a teenager devastated Billy, resulting in a long journey to rebuild his life after the loss of use in his right side and dependency on re-learning through his left side. Billy has since been through a journey through life living in South-East London and making art.
In the past Billy has volunteered and participated with the Bromley-By-Bow centre, Cooltan Arts, Outside In, Southwark Resource centre and the Urban Art fair.
From years of practice, Billy is now able to use his talents to express himself at a masterful level, without much planning and work in a fluid way. His drawings and paintings are often cerebral and come directly from his subconscious.
Billy is influenced by the artwork of Robert Crumb, HR Geiger and low-brow comics and alternative culture.
He is currently working on his ceramics at a ceramics studio in central London, painting at home, and drawing wherever and whenever he can – usually at a cafe. You might see him in the West-End of London drawing in one of the capital's many cafes.
Billy is assisted by fellow alternative artist Sara Burgess.
Education
1989-1992 BA Fine Art/Camberwell College of Art
Upcoming Exhibitions
None planned, so far ....
Solo Exhibitions
2007 'The Fly in the Ointment'
Group Exhibitions
2017 'Grotesques and Cherubs' Nunhead Cemetery/London
Open House Weekend 16th & 17th September 2017
Nunhead Arts Trail 23rd & 24th September 2017 Link
2016/2017 Tight Modern/UK Touring exhibition, Link
2016 URBAN Art Fair/London
2016 'Wallpaper'/The Affordable Art Fair/Cooltan Arts Link
2015 'Misbehaviour'/Art Catcher/The Art Pavilion Link
2014 'The Inner Self: Drawings from the Subconscious/CGP London/Outside In Link
2014 'The Art of Lines'/Inspire at St.Peter's Church
2013
IMPACT Art Fair/Outside In
Link2013 'MADE' Ceramics/Morley Gallery
2013 URBAN Art Fair/London
2012 BEAM Artist Group show,Southwark Resource Centre
2012 'The Ragshow Edition' Cooltan Arts/Morley Gallery
2012 'Boundless Arts Festival'/Peckham Link
2011 World Mental Health Day/Cooltan Arts/The Guardian Online Link
2010 'Road to Recovery/Cooltan Arts/Carnegie Library
2010 'Celebrate Mad Heritage'/Cooltan Arts/Oh! Gallery - Oxford House
2009-2012 Cooltan Arts - Various
2009 'Carry on Capital'/Vincent Van Scoff Gallery Link
2008 'Signs of Life' project/Bromley By Bow Centre
2005 'Our Place', Bromley By Bow Centre
And many more unremembered...
©Billy Weston 2018 All rights Reserved.